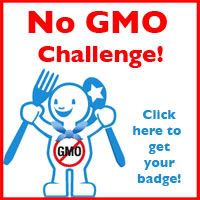 The
No GMO Challenge
is an online challenge (similar to the Eat Local Challenge or The Growing Challenge) that aims to educate and build awareness about the dangers of GMOs, or genetically modified organisms, in our food supply.
Help Make 2009 The Year of The No GMO Tipping Point!
Together, let's inspire enough American consumers to reject GMOs, so that using GMOs becomes a marketing liability as it has in other countries around the world. Based on food companies' sensitivity to market share and brand image, we think as little as 5% of consumers — 15 million people — conscientiously avoiding GMOs will be more than enough to purge GMOs from our U.S. food supply.